Yamaha Service Kit for YFM550/700 Grizzly SK3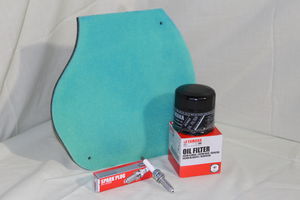 Enquire about our Yamaha Service K…
Yamaha service kit using Genuine Yamaha parts.
5GH1344060 Oil Filter
1HPE445101 Air Filter
LMAR6A9 Spark Plug
Fits. All YFM550 and 700 with 686cc engines.
Buy online using Paypal
1HPE445101 Air Filter 5GH1344050 Oil Filter LMAR6A9 Spark Plug
Pay with your credit card at Paypal
Did you know that you don't need a Paypal account to pay using Paypal?
You can use your credit or debit card to pay.

Back to Yamaha Parts