Yamaha Service Kit SK2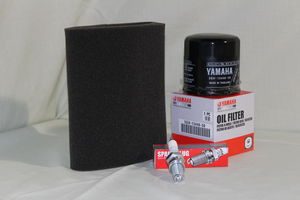 Enquire about our Yamaha Service K…
Yamaha service kit using Genuine Yamaha parts.
5GH1344061 Oil Filter
5UHE44511 Air Filter
DR8EA Spark Plug
Fits.
YFM350 Bruins, YFM350 Grizzly ,YFM450 Kodiak, YFM450 Grizzly 2004 onwards
Buy online using Paypal
5UHE44511 Air Filter 5GH13440600 Oil Filter DR8EA Spark Plug
Pay with your credit card at Paypal
Did you know that you don't need a Paypal account to pay using Paypal?
You can use your credit or debit card to pay.

Back to Yamaha Parts