Yamaha Service Kit SK1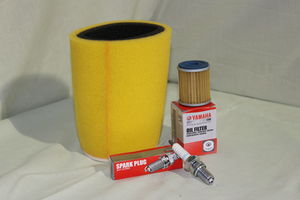 Enquire about our Yamaha Service K…
Yamaha Service kit using genuine Yamaha parts.
1UY134400200 Oil Filter
1YW1445100 Air Filter
DR8EA Spark plug.
Fits
350 Big Bears
400 Kodiaks (geared)
400 Big Bear Proffesionals
Buy online using Paypal
1YW1445100 Air Filter 1UY1344002 Oil Filter DR8EA Spark Plug
Pay with your credit card at Paypal
Did you know that you don't need a Paypal account to pay using Paypal?
You can use your credit or debit card to pay.

Back to Yamaha Parts