Tyre for some MFG/MFP Flail Mowers and MSC/MSP Sweepers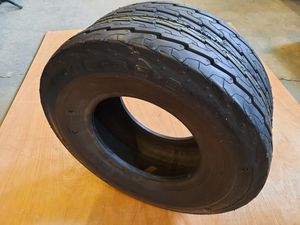 Enquire about our Tyre for some MF…
Tyre. SIZE 16.5 x 6.5/8 to suit many of the MFG and MFP Flail toppers.
See Second option also which is a slightly smaller tyre fitted to some machines. That size is 16 x 6.5/8
This will also fit SOME MSC and MSP Paddock Sweepers on the front.
PLEASE CHECK THAT THIS MATCHES THE SIZE ON YOUR MACHINE. IF IN DOUBT OR UNSURE PLEASE CALL US ON 01584 811831.
Buy online using Paypal
T143 (16.5 X 6.5/8) Tyre

T142 ( 16 x 6.5/8 ) Tyre
Pay with your credit card at Paypal
Did you know that you don't need a Paypal account to pay using Paypal?
You can use your credit or debit card to pay.

Back to Logic Parts