Shows we are Attending in 2022
21 Jan 2022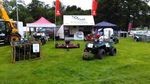 It will be great to get back doing shows again..Fingers crossed.✌.
Below is a list we will be exhibiting at this year. Look forward to seeing you there.
Arable Event. Near Shifnal 15th June
Royal Three Counties Show Malvern. 17th-19th June.
NSA Sheep Event. Malvern. 27th July.
Burwarton Show. 4th August.
Tenbury Show. 6th August.
Back to News