Rear Deep Quad Box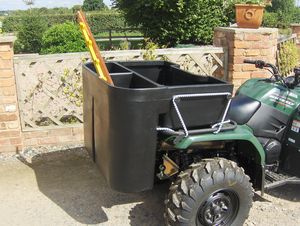 Enquire about our Rear Deep Quad B…
With all the features of the standard rear quad box but with the added bonus of deep storage compartments hanging over the rear of the bike the deep box is the ideal solution for transporting electric fencing or longer tools. Manufactured from robust Polyethylene it is strong, durable yet can be fitted to the bike in seconds.
Dimensions:
Width - 0.86m
Depth - 0.7m
Height - 0.23m
Rear Compartment depth - 0.63m
Buy online using Paypal
Pay with your credit card at Paypal
Did you know that you don't need a Paypal account to pay using Paypal?
You can use your credit or debit card to pay.

Back to Accessories