Logic Sprayer Sprayline Nozzle Parts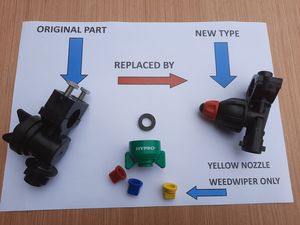 Enquire about our Logic Sprayer Sp…
Genuine Logic Sprayer Nozzle Parts
Buy online using Paypal
Green cap OBS1011012 Green cap

Seal for Green cap OBS1011011 Seal

Red 20 Gallon Jet OBS1011020

Blue 15 Gallon jet OBS1011015

Yellow Jet ( weedwipers) OBS101-1010

OBS101-2053 Nozzle Holder-NEW TYPE on right of picture. Replaces the older style on the left. NB. IF USING ON AN OUTER STEEL BOOM TUBE PLEASE ALSO ORDER LONGER FIXING SCREWS BELOW. FOR WEED WIPERS YOU CAN FIT THE SAME STYLE NOZZLE HOLDER BUT WITH NO ON/OFF TAP. TO ORDER USE OPTION 1 BELOW.

OBS101-2054 LONGER FIXING SCREW FOR USE ON OUTER STEEL BOOM TUBES

Option 1.OBS101-2013 Nozzle holder ( No On/Off ) for Weed wipers. NB .If now fitting this new type for the first time you will need the single bolt and nut below. This will replace your old two bolt fixing and you will need to drill a new hole in the hood of the wiper.See Option 2 below for bolt/nut/washer for fixing to weedwiper hood.

Option 2. M616BNW Bolt/nut/washer for single bolt fixing of holder to weedwiper hood.
Pay with your credit card at Paypal
Did you know that you don't need a Paypal account to pay using Paypal?
You can use your credit or debit card to pay.

Back to Logic Parts