Logic Salt Spreader Drive Belts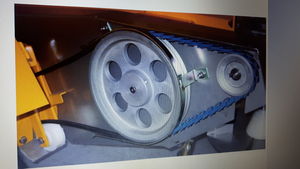 Enquire about our Logic Salt Sprea…
Genuine Logic GDS Salt Spreader Drive belts. See Options below.
Buy online using Paypal
GDS200-112 Main Drive belt.Fits All GDS200/250 machines.One Per machine

GDS200-113 Rear Drive(spinner) Toothed belt. Fits All Logic GDS150/200/250 Machines. NOTE There are TWO per machine.

GDS150-11 Main Drive belt. Fits All Logic GDS150 Machines
Pay with your credit card at Paypal
Did you know that you don't need a Paypal account to pay using Paypal?
You can use your credit or debit card to pay.

Back to Logic Parts