Logic Hub Caps (see options)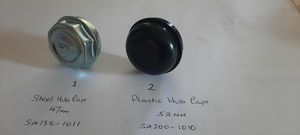 Enquire about our Logic Hub Caps (…
Below are the two most common hub caps fitted to Logic machines.
Buy online using Paypal
N01 SA135-1011 Steel hub cap. 47mm Fitted to many off road trailers/feeders

N02 SA200-1010 Plastic Hub Cap 52mm Fitted to most Logic Mowers, sweepers, graders etc.
Pay with your credit card at Paypal
Did you know that you don't need a Paypal account to pay using Paypal?
You can use your credit or debit card to pay.

Back to Logic Parts