Logic Flail Mower Idler Pulley/Arm and/or Spring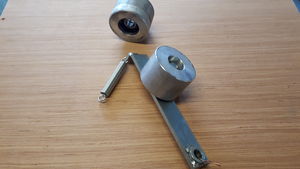 Enquire about our Logic Flail Mowe…
The Idler pulley and spring to suit all MFG/MFP flail Mowers or a complete Am,pulley and spring
Nb. Replaces the original plastic pulley on the older machines
Nb. If your changing the pulley its advisable to change the spring as well.
Buy online using Paypal
MFG120-1037 Pulley only

MFG120-1009 Spring only

MFG120-1008 Arm c/w pulley and MFG120-1009 Spring
Pay with your credit card at Paypal
Did you know that you don't need a Paypal account to pay using Paypal?
You can use your credit or debit card to pay.

Back to Logic Parts