Bearing and seal kit for wheel hub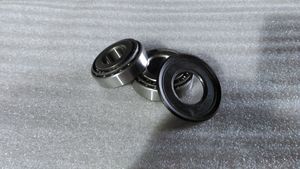 Enquire about our Bearing and seal…
A bearing and seal kit for Logic trailer hubs, with 35mm or 40mm section stub axles.See (Options below) Consists of an inner and outer bearing and a seal.
Buy online using Paypal
BH1204/BH1205/SA135-1006 Bearing and seal kit for 35mm Stub Axle

BH1204/BH1206/SA140-1006 Bearing and seal kit for 40mm Stub Axle
Pay with your credit card at Paypal
Did you know that you don't need a Paypal account to pay using Paypal?
You can use your credit or debit card to pay.

Back to Logic Parts